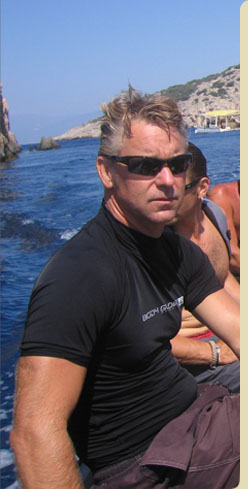 I obtained a B.Sc. in Anthropology/Archaeology from College of Charleston and have since worked on a number of terrestrial archaeological projects, including the colonial occupation of Charles Towne Landing in South Carolina (2006-2007), the Göksu Archaeological Project in central Turkey (2006) (http://goksu.cofc.edu/), and the excavation of the Athenian Agora in Greece (2007).
Diving has become a passion. I enjoy the activity for recreation as well as using SCUBA as a tool for work. Thus far I have accumulated over 600 recorded dives, including approximately 200 dives to 140 feet or deeper. I have served as a diver at the South Carolina Aquarium and as president of the Archaeological Diving Club at Texas A&M University.
Originally certified as an Open Water Diver and later as an Advanced Open Water Diver through Scuba Schools International (SSI), I currently hold the rank of Assistant Dive Instructor through PADI. Although there are no immediate plans to obtain my Dive Instructor certification I may choose to pursue this option at a later date.
In 2010, I obtained instructors certifications for CPR/First Aid/AED through the American Red Cross, along with Oxygen First Aid for Scuba Diving Injuries and Basic Life Support through the Divers Alert Network (DAN), also serving as an intern for DAN.
.
.
.
.
.
In the fall of 2007, I entered the Nautical Archaeology Program and participated in the Kizilburun Shipwreck Excavations
(http://nauticalarch.org/projects/all/southern_europe_mediterranean_aegean/kizilburun_turkey/introduction/)
in 2009 and 2011, as both excavator and Dive Safety Officer (DSO). This was a first century B.C.E. shipwrecked stone-carrier and the hull remains formed the basis of my 2012 M.A. thesis. In 2010 I was employed for the same roles on the re-excavation of the Bronze Age Cape Gelidonya shipwreck
(http://nauticalarch.org/blogs/cape-gelidonya-project/) .
During the late summer of 2012 I worked with the Aucilla River Pre-history Project (http://archive.archaeology.org/9703/newsbriefs/aucilla.html)
in an effort to gather evidence of pre-Clovis culture(s).
In the summer of 2013, I once again filled the role of DSO in a coastal survey of the area around ancient Troy (Turkey)
(http://nauticalarch.org/blogs/turkish-survey-2013/),
while in the summer of 2014 I found myself as DSO and trench supervisor for the Marzamemi Maritime Heritage Project
(https://marzamemi.stanford.edu/blog).
When not in classes or in the field, I spend most of my time working in the conservation labs of the INA Bodrum Research Center
(http://nauticalarch.org/ina_turkey/bodrum_research_center/),
often as artifact photographer, but filling many roles otherwise.
In addition to a B.Sc. in Anthropology/Archaeology, I have earned certificates in Maritime Conservation from Texas A&M University and Dendrochronology from the University of Arizona. Most recently I finalized my M.A. thesis based on the recording and interpretation of the Late Hellenistic period Kızılburun marble carrier and have began work on my Ph.D. dissertation research.